Project e-Gewerbe
Project description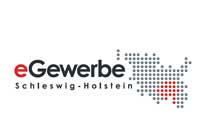 A typical management process involves various agencies. The E-commerce project investigates such processes and designs them so that they can be carried out seamlessly.
The pilot project in the five districts of Kreis Stormarn, Kreis Segeberg, Stadt Ahrensburg, Stadt Norderstedt and Gemeinde Henstedt-Ulzburg shows that seamless processing of data can not just reduce costs but also significantly improve service provision.
The project is seen at federal state level as a model project for "e-government compatible" business processes and can be transferred without major additional outlay to other districts. In a state with low population density such as Schleswig-Holstein, the area-wide specific e-government application element is of particular importance.
Focuses
The focus of the project is initially on seamless processing of business registrations, from receipt of the application and its processing through to forwarding it to the receiving agency.
The internal agency processes will in future be carried out fully electronically, instead of sending the data to up 13 sites in paper form. In this way, the process can be made significantly shorter and more cost effective. This optimisation of internal agency processes is the basis for a further part of the project, the online business register service. This register consists of both a business registration facility and an information service. The information service offers agencies, private individuals and companies electronic information from the business register, 24 hours a day and 7 days a week. After a one-off registration at the central gateway, the administration processes can be accessed. The fees for information can be paid via an integrated payment platform. Particular value is placed here on adherence to data protection regulations.
By using central components which are already used for other e-government applications, e.g. registration information from residential registration offices, transfer to other districts within the state of Schleswig-Holstein without additional outlay is made possible.
The use of a central, overarching infrastructure makes it possible to offer the user a uniform, comprehensive service, without having to give up the procedures used locally. The business processes described in the project are documented and can be adapted to the local procedures. They will be further developed to meet the requirements EU service provision guidelines.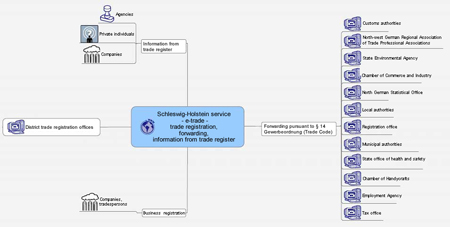 E-Commerce structure (click picture for larger view).
Service
Business registration
Internet forms for business registration, re-registration and deregistration
Display of various entry options depending on responsibilities (citizen, staff member)
Electronic cash-less payment
Expansion to include digital signatures and transfer of electronic documents
Forwarding of business registrations
In future exclusively in digital form, for which various formats will be offered
In individual cases: importing of business data via interfaces for procedures of receiving agency
Information from register
The basis for the sophisticated role concept approach is a mirrored database, which will be available around the clock
Data will be held in accordance with responsibilities of the registration authorities
Use of the mirrored database is via a forwarding function, which keeps the information up-to-date
Central access
Users register once at the central gateway and after checks are given access to the services requested
All central services (payment, distribution etc.) are provided via this infrastructure
Business registration, which is a central process in the field of Commercial Law, is made to correspond to e-government by the e-business project. This is independent of which processes are used in the registration office. The project thus develops the first building block which can be further developed with the implementation of the EU service provision guidelines.
Project partners
E-Commerce structure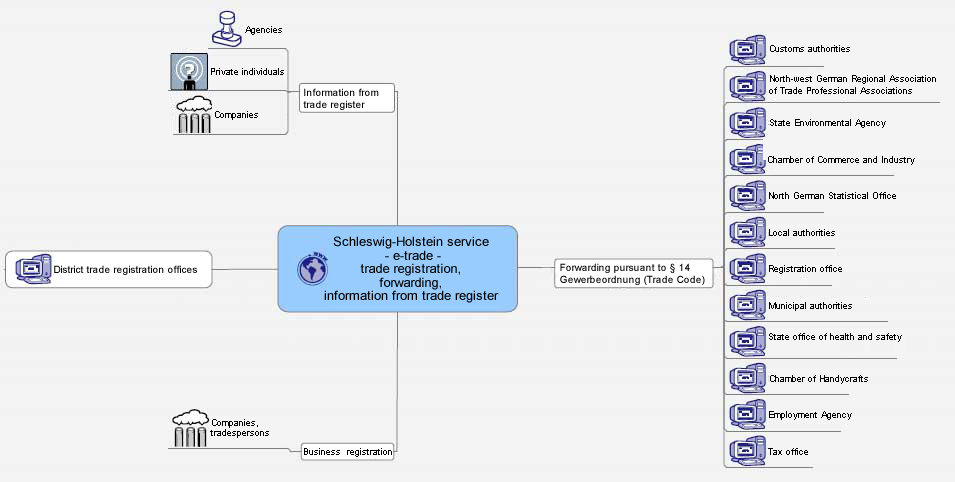 Grundriss Gebäude A, Erdgeschoss